Use the words / phrases in the box in their correct form to complete the text. Sử dụng từ/cụm từ trong ô vuông ở dạng đúng của chúng để hoàn thành bài viết.
Pronunciation
1. Listen and underline the words that have the consonant cluster sounds / tr/, / br/, and / kr/. Write /tr/, / br/ or / kr/ above the word that has the corresponding consonant cluster sound. Then practise reading the sentences.
Lắng nghe và gạch chân những chữ tổ hợp phụ âm được phát âm là /tr/, /br/ và /kr/. Viết /tr/, /br/ hoặc /kr/ phía trên từ có phát âm tổ hợp phụ âm tương ứng. RỒi tập đọc các câu đó.
Click tại đây để nghe:
1. After having the ice cream, she brushed her teeth.
2. The car crashed into a tree near the traffic lights.
3. Try this new dish created by your brother.
4. They often have brown bread for breakfast.
5. That brave young man likes travelling by train
6. Is it true that the crime rate is increasing?
Key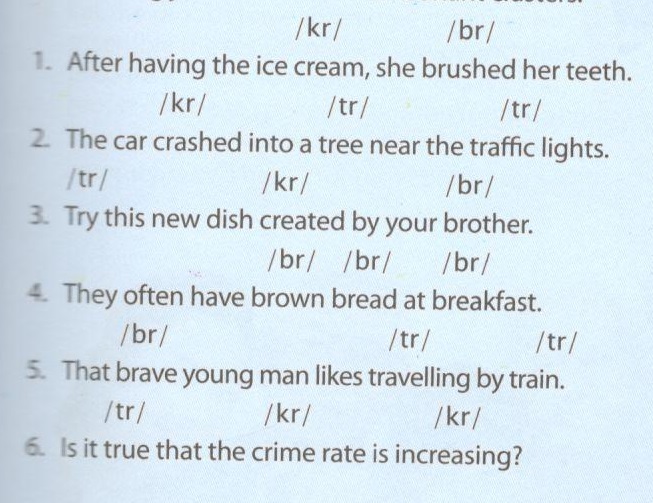 Vocabulary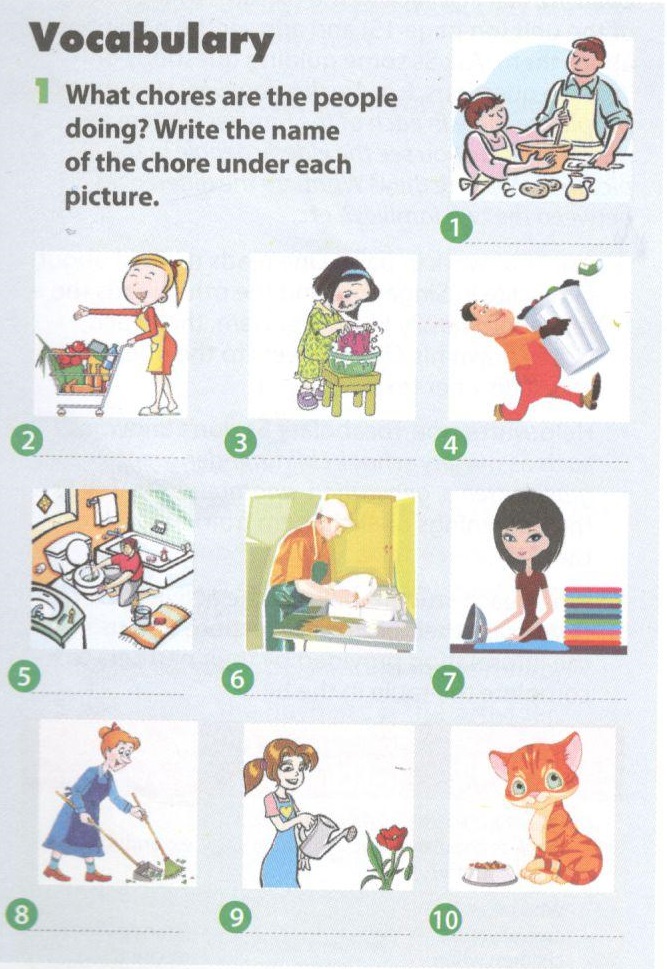 Mọi người đang làm những việc gì? Viết tên công việc nhà bên dưới mỗi bức tranh.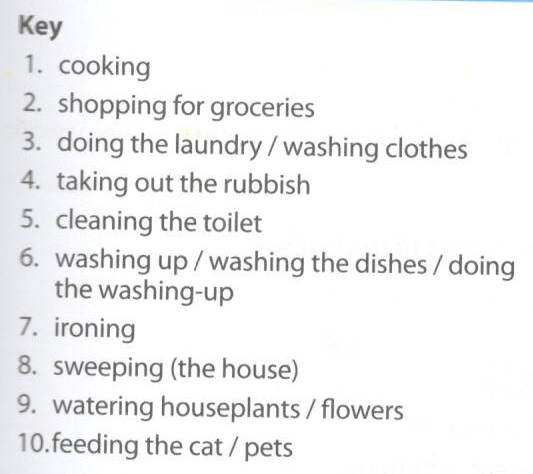 2. Use the words / phrases in the box in their correct form to complete the text.
Sử dụng từ/cụm từ trong ô vuông ở dạng đúng của chúng để hoàn thành bài viết.

Household chores are divided equally among the members of Thanh's family. His mother (1)_____________________ .Thanh's father and sister enjoy the food she cooks very much.
Besides, she often (2)______________________ because she wants to choose the freshest and healthiest ingredients for the meals. Thanh's father is a strong man but he doesn't have much time for housework.
So he only (3)_____________________ that requires physical strength. Thanh helps with (4)_____________ and (5)__________________ .
He feels happy to see his parents wearing clean and neat clothes to work. Although he doesn't really like it because he thinks it's dirty, he (6)_____________________ every day.
Thanh's sister contributes by (7)____________________ . She does it very carefully so the house is always very clean. Before each meal, she (8) _________________ , and after the meal, Thanh (9)____________________ . Sometimes, he breaks a bowl or a plate. Everybody in the family shares housework so that all can have some time for rest and recreation.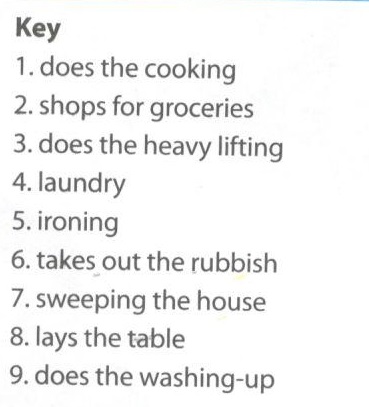 Grammar
1. Finish the sentences with either the present simple or the present continuous.
Hoàn thành các câu với thì hiện tại đơn hoặc thì hiện tại hoàn thành.
1.   I (write) to you to tell you how much I (miss) you.
2.   Jack is away on business, so I (look after) his dog.
3.   Nam always (look) untidy. He (wear) dirty jeans now.
4.   I can't answer the phone now. I (cook) the dinner.
5.   Excuse me, you (read) your newspaper? Could I borrow it?
6.   What do people in your family (do) in the evening?
Key
1. am writing, miss
2. am looking after
3. looks, is wearing
4. am cooking
5. are you reading
6. do 
2. Work in groups. Discuss the following questions. Then report the results to the class.
Làm việc theo nhóm. Thảo luận những câu hỏi sau. Rồi trình bày kết quả với cả lớp.
Should young people like you share the housework? Why? Why not?
What household chores are suitable for young people like you?
What do you actually do to help with the housework in your family?